Why is it called a 'White Wedding'?

Why is it called a 'White Wedding'?
Long before thousands waited in eager anticipation to catch a glimpse of Kate's dress when marrying Prince William, royal weddings have set the trends. Queen Victoria made possibly the most iconic wedding statement that has influenced traditions for nearly 200 years when she unorthodoxly wore white at her wedding to Prince Albert on the 10th February 1840. From this fashion decision, the concept of the white wedding was formed.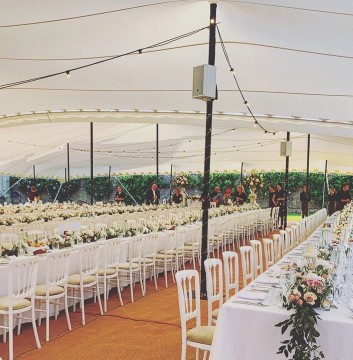 The wedding of Queen Victoria and Prince Albert could be regarded as the first 'celebrity' wedding. Wearing white was an unusual choice, as brightly coloured dresses were the current fashion. However, Queen Victoria used this as an opportunity to stand out. Only her and her twelve bridesmaids were allowed to wear white on the day, making her the centre of attention. The colour white was also a status symbol. Cleaning a dress like this would be a job that only the wealthy could afford.
Previously royal weddings had been small, private affairs, something that Queen Victoria, being quite shy of the publicity, is thought to have preferred. However, coerced by her mother and royal advisors, this wedding set new levels of extravagance and would influence the traditions of a white wedding for centuries to come.
A wedding of this kind would have taken exceptional planning with immense attention to detail. Although wedding trends have changed over the years, many couples still opt for the traditional white wedding. The luxury setting for their wedding breakfast is a main feature of the day. With elegantly decorated chairs and tables that include beautiful chinaware, sparkling glasses and immaculate linens, carefully planned to add that special touch to the perfect day. Anglia Elite can take care of these details and take pride in ensuring that the bride and groom's expectations are exceeded and every memory of this unique day is cherished.
Looking for our expert help? Speak to us for a quote
Contact Us »
"Highly recommend this company"

Anglia Elite helped our special day to run smoothly. From the first phone (and I made quite a few changes to the original order) to the collecting of the equipment all their staff were very professional, helpful and considerate. 'Little things' like 120 cushions put on the chairs & all the tables put in the positions we asked for meant a great deal to us - no fuss. Highly recommend this company. Thank you.

C&P Cambridge
"I shall not hesitate to recommend your company, it has been a pleasure to do business with you. "

Thank you for your prompt and efficient service in providing the crockery and cutlery for my recent party. I shall not hesitate to recommend your company to anyone planning a similar event; it has been a pleasure to do business with you.

JR - Norwich
"Extremely pleased with your products and customer service"

Thank you, we were extremely pleased with your products and customer service, we will be sure to use your companies services again, although we may need a rest before our next party!

CL - Suffolk
"You were so kind and professional "

Just a quick note to say thank you for supplying all our tableware etc for our wedding back in October. The two gents that dropped everything off were so so kind and helpful, which made the whole process a breeze. I sent so so so many emails to Hayley, constantly changing things - I'm sorry! You were so kind and professional. You are all fab!

Mr & Mrs S
"Highly efficient service "

Many thanks for this and for the highly efficient service which your team provided for the staging of this mega event. I am pleased to say the concert was a huge success with a standing ovation at the end from an audience of almost 1900. It was a truly memorable night and certainly for the 440 performers on stage, an extraordinary musical experience which none of us will forget!

MN - Norwich