Chaucer Barn - A Huge Thankyou!

Thanks for having us!
We had a wonderful time at Chaucer Barn Spring Open Weekend, it was lovely to meet all the excited couples who are busy planning ahead for their big day.
We are super excited to tell you our most popular chair from the weekend was our Vintage Tolix Chair! It's brushed copper look is a firm favourite with Bride's & Groom's, they just loved the warming tones of the chair paired with our Rustic Trestle Tables, which are always a firm favourite and we can see why, just look how stunning this table layout looks!
It was great to work with so many wonderful suppliers and we would like to say a massive thank you to each an every one of you.
Firstly, a huge thank you to Jenna & the team at Chaucer Barn for inviting us to showcase at one of our favourite wedding venues. The gardens looked amazing with our Rustic Cross Back Chairs, we regularly supply our banqueting chairs for the outside ceremony space and we can see why, look at this for a setting!
Thank you to Morton's Event Hire for supplying their Hex Marquee, which was situated in the beautiful gardens of Chaucer Barn, where our wonderful showcase all came together. Here we worked with Katy at Bracken & Twine, who produced the most magnificent spring floral displays, if you didn't get a chance to see them, just look how beautiful they are and they smelt amazing too! We kept in close contact with Katy to ensure our table setting displays worked perfectly with her designs.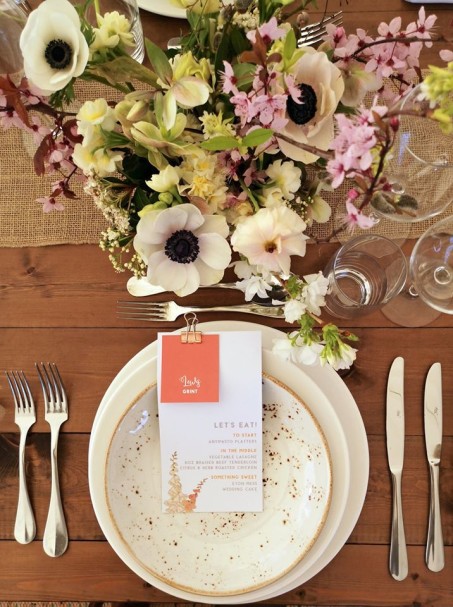 Can you see the beautiful menus on the tables? These were made by the very talented Claire at Frog & Pencil. A fantastic bespoke water colour illustrator, who's imagination is out of this world. It was great to work along side Claire. We let her take the reins on the table display stationery and we are so glad we did, she colour coordinated everything to match our tables and seat pads and it all worked perfectly together, we can't thank her enough!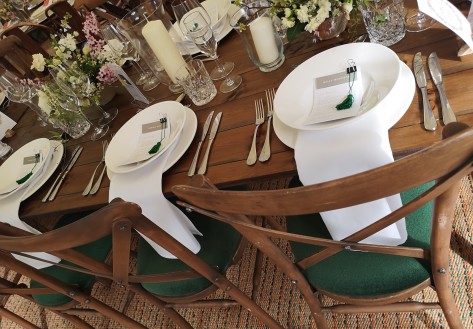 It was great to have the wonderful Tori at Victoria Jane Bakes working along side us in the marquee too! Tori showcased her delicious rustic woodland themed wedding cake designs, we were even lucky enough to taste her chocolate fudge cake, and OH MY it was to die for!
Lastly, a massive thank you to Sian at Alex Chef, who we work closely with and supply all their catering and kitchen equipment. It was great to see them using our service equipment to display their mouth-watering canapes, they were extremely hard to resist and all tasted amazing!
So it just leaves one special thank you and that's to all the lovely couples who came to see us, we really hope you enjoyed the weekend as much as we did.
Looking for our expert help? Speak to us for a quote
Contact Us »
"Highly recommend this company"

Anglia Elite helped our special day to run smoothly. From the first phone (and I made quite a few changes to the original order) to the collecting of the equipment all their staff were very professional, helpful and considerate. 'Little things' like 120 cushions put on the chairs & all the tables put in the positions we asked for meant a great deal to us - no fuss. Highly recommend this company. Thank you.

C&P Cambridge
"I shall not hesitate to recommend your company, it has been a pleasure to do business with you. "

Thank you for your prompt and efficient service in providing the crockery and cutlery for my recent party. I shall not hesitate to recommend your company to anyone planning a similar event; it has been a pleasure to do business with you.

JR - Norwich
"Extremely pleased with your products and customer service"

Thank you, we were extremely pleased with your products and customer service, we will be sure to use your companies services again, although we may need a rest before our next party!

CL - Suffolk
"You were so kind and professional "

Just a quick note to say thank you for supplying all our tableware etc for our wedding back in October. The two gents that dropped everything off were so so kind and helpful, which made the whole process a breeze. I sent so so so many emails to Hayley, constantly changing things - I'm sorry! You were so kind and professional. You are all fab!

Mr & Mrs S
"Highly efficient service "

Many thanks for this and for the highly efficient service which your team provided for the staging of this mega event. I am pleased to say the concert was a huge success with a standing ovation at the end from an audience of almost 1900. It was a truly memorable night and certainly for the 440 performers on stage, an extraordinary musical experience which none of us will forget!

MN - Norwich